Why do you need ERP to support your multiple online stores?
---
As e-commerce platforms diversify, transaction volume expands, large-scale sellers emerge, and the industrial division of labor refines, e-commerce ERP systems have gradually formed distinctive features. The capability of supporting large-scale e-commerce business and the performance of cross-platform and cross-category services are manifestations of the adaptability, technical level, and competitiveness of an e-commerce ERP system.
Once the daily order volume of the store reaches 100, this is time for the seller to start thinking about using professional tools to improve order processing efficiency, reduce labor-intensive manual work, and have better control over the workflow. But after all, the e-commerce business model is very different from the traditional business model. Some scenarios are unique to the e-commerce model: orders originating from multiple third-party platforms, different order transaction statuses, various promotions, discrepancies between the salable and actual inventory quantity, sudden shift in order volume, order-specific warehouse and logistics information, real-time tracking information, different post-sales services, etc.
The earlier e-commerce ERP systems with more primitive functions were pushed to refactor their architecture and code to meet the demands of contemporary e-commerce businesses, especially large-scale ones. At present, e-commerce ERP systems are no longer restricted by operating systems,so companies can choose the best platform based on their business needs and financial capabilities to achieve a smooth transition between stages of business development.
UPFOS, is a One-Stop Omni-Channel retail management system. A tailored service to help grow your business better and faster. Managing orders and clients through multichannel e-commerce platforms can be overwhelming and time-consuming. With UPFOS, you can use all-in-one platform to access all marketplaces. UPFOS has leading product & research team with more than 10-year ERP system experience from TOP companies. And it periodically optimize and update versions for global market development to meet all your needs for retail business online & offline. The local customer service support team offer localization for multiple languages and currencies. UPFOS, which is deployed in Alibaba cloud overseas nodes, uses advanced technology to ensure quick and stable access to the service, and to ensure data security & privacy for every UPFOS user.
Contact UPFOS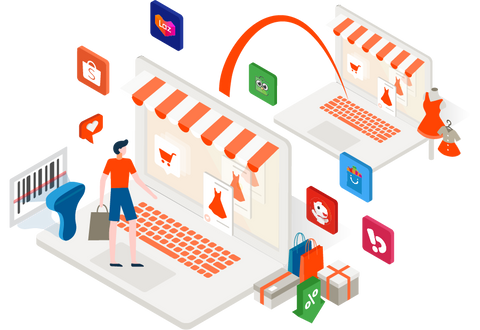 In the initial stage of constructing an enterprise management system, a regular PC network is sufficient, and the cost is relatively low. With the expansion of the application scale, a hardware environment with stronger processing power is in demand, while switching software systems is not desirable. That's when cross-platform business software systems in the form of ERP come in handy as they show advantages in fully protect the users' investment.
In the meantime, the data that enters the system can be transformed, integrated, and then transferred to corresponding functional modules based on the business workflow, internal management logic, and the interrelationship between the application functions. The seamless information flow and data communication within the entire system help achieve a high degree of data sharing and system integration, facilitating the management and control of the enterprise.
Contemporary e-commerce ERP systems greatly shorten the time in which purchase information in the supply chain travels from downstream to upstream, improving the flow of logistics and flow of capital. In addition, third-party logistics and electronic payment methods further ensure logistics and capital flow are at a predetermined speed. The acceleration of logistics, capital flow, and information flow enables the supply chain to realize value-added in a shorter period.
UPFOS is the leading service enterprise that provide omni-channel all-in-one solution for new retail model business, which intelligently run through the whole process of the enterprise, to accelerate business growth and achieve the ultimate e-commerce management in Southeast Asia. Meanwhile, it is the most powerful ERP service provider connects online and offline business, supply chain, inventory management, and the integration of OMS and WMS business management! 
Contact UPFOS